2019 - Articles published by P2 Partner: ICI Bucharest
Towards the Development of an Innovative Platform for the Systematization and Preservation of the Romanian Literary Patrimony
DESCRIPTION: TRANSYLVANIAN REVIEW, vol XXVIII, pp. 231-244, Supliment Nr. 1, 2019, ISSN 1221-1249
AUTHORS: Gavrilă, V., Băjenaru, L., Dobre, C
In this paper we present a solution that represents both an open portal to the digital era and also a possible answer to the problems of preservation and conservation of Romanian literature patrimony. This solution consists in the development of a digital platform, by which literary works, manuscripts, editions of a work, bibliographies, dictionaries of Romanian Literature and many more other documents will be stored, analyzed and processed. It will also facilitate quick access to literature and related materials for everyone. The development of an integrated software platform will represent the basis for the communication and distribution of materials from the field of Romanian literature culture to a large audience, information that will be available in any field: academic, scientific, personal development etc. Thus, it is possible to digitize documents from the cultural heritage, can promote them both nationally and internationally, protect original documents, allow simultaneous viewing by many users, allow remote access anytime. Thus, this proposal will contribute to systematization and preservation the Romanian literary patrimony by extracting and structuring knowledge from data sources such as the "General Dictionary of Romanian Literature", "The Chronology of Romanian Literary Life: 1944-2000" and other such structured sources and unstructured ones provided by the Romanian Academy Institute of History and Literary Theory. An important goal of the platform is to provide access to information and related literature in an easy-to-access online environment.
A New Digital Solution for Promoting of Romanian Literary Patrimony
DESCRIPTION: TRANSYLVANIAN REVIEW, vol XXVIII, pp. 217-230, Supliment Nr. 1, 2019, ISSN 1221-1249
AUTHORS: Băjenaru, L., Gavrilă, V., Cristescu, I., Iordache, D., Dobre, C
Modern Single Page Application Architecture: A Case Study
DESCRIPTION: Studies in Informatics and Control, vol. 28(2), pp. 231-238, 2019, ISSN 1220-1766
AUTHORS: Gavrilă, V., Băjenaru, L., Dobre, C.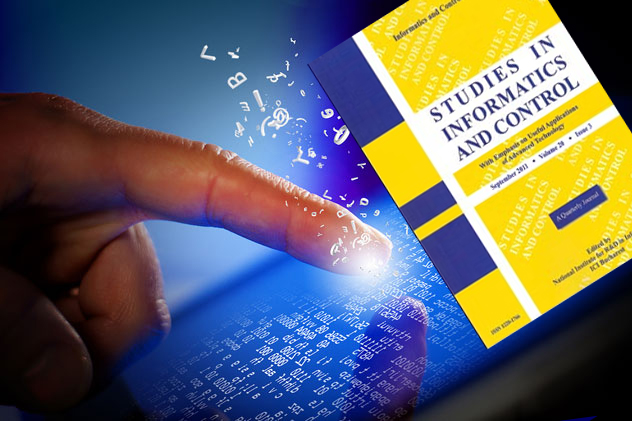 This paper presents the latest technologies and methodologies available today with a view to creating a high performance, unique and user-experience centric platform. The Client application is a Single Page Application (SPA) and is the most complex component due to its extremely modular architecture. This is not a simple webpage but a stand-alone application, divided into components according to their role. The modular and complex component-based architecture proposed at all levels of the application, ranging from the client all the way up to the storage level, underlies the INTELLIT platform. The INTELLIT platform aims to provide an easy access to information about the life and work of Romanian authors, the most important moments in our culture, the complete calendar of events from 1994 to 2000, the canonical work of different national authors. The new approach also addresses the identification of new ways to modulate and structure such a platform, both on the client side and on the server side, so that individual testing of the various components and any subsequent changes can be achieved as easily as possible. The main reasons these technologies and models were chosen are performance, low code duplication, modularity and reuse of components.
A New Challenge in the Data Processing of Non-Standard Texts Containing Accents / Diacritics: A Case Study
DESCRIPTION: Proceedings 2019 IEEE 15th International Conference on Intelligent Computer Communication (ICCP)
AUTHORS: Gavrilă, V., Băjenaru, L. și Dobre, C.
The INTELLIT project develops a virtual online museum of the Romanian literature. The sources of data made available and provided by the Romanian Academy, such as: General Dictionary of Romanian Literature, Timeline of the Romanian Literary Life and the canonical works of Romanian writers are digitized and indexed using smart text analytics. One of the challenges with this process is dealing with diacritics and textual accents. Here, we present an in-depth analysis of possible solutions and describe our implementation for detecting various Unicode text processing. We present the solution identified as an accessible way to remove specific Unicode text code points in order to greatly improve our search and filtering capabilities while still preserving the original source (at the database level).
INNOVATIVE SOLUTION FOR PROMOTING THE ROMANIAN LITERARY HERITAGE
DESCRIPTION: Robotică și imprimare 3D în biblioteci
AUTHORS: Marinescu, I. A., Gavrilă, V., Băjenaru, L., Tomescu, M.
The national literature plays an extremely important, even vital, role in the development of the Romanian people, because it represents our identity. In the context of globalization, cultural heritage is important because it strongly influences our sense of identity, loyalty and behavior. The concern for the preservation of the cultural heritage leads to a greater awareness of the complexity of the culture. In this context, we propose a solution that represents both a portal open to the digital age and a possible answer to the problems of conservation and preservation of the Romanian Literary Heritage. This solution consists in the development of an Integrated Platform for the Preservation and Capitalization of the Romanian Literary Heritage – INTELLIT, which will provide access to the information from the General Dictionary of Romanian Literature (DGLR), the Chronology of Romanian Literary Life (1944-2000) (CVLR) and other such of structured and unstructured sources provided by the Institute of Literary History and Theory of the Romanian Academy.
2019 - Articles published by P3 Partner: Polytechnic University of Bucharest (UPB)
Semantic Author Recommendations based on their Biography from the General Romanian Dictionary of Literature
DESCRIPTION: 7th International Workshop on Semantic and Collaborative Technologies for the Web, desfășurată împreună cu 15th International Conference on eLearning and Software for Education (eLSE 2019) (pp. 165–172). București, România. Editura Universității de Apărare Națională "CAROL I"
AUTHORS: Neagu, L.-M., Coteț, T.-M., Dascălu, M., Trăușan-Matu, S., Bădescu, L., Simion, E. 
The General Romanian Dictionary of Literature is a centralized text repository which contains detailed biographies of all Romanian authors and can be used to perform various subsequent analyses. The aim of this paper is to introduce a novel method to recommend authors based on their biography from the General Romanian Dictionary of Literature (DGLR). Starting from multiple input files made available by the "G. Călinescu" Institute of Literary History and Theory, we extracted relevant information on Romanian authors covering the [A-D] letters which was indexed into Elasticsearch, a non-relational database optimized for full-text indexing and search. The relevant information considers author's full name, their seudonym (if any), years and places of birth and of death (if applicable), brief description (including studies, cities they lived in, important people they met, brief history), writings, critical references of others, etc. The indexed information is easily accessible through a RESTful API and provides a powerful starting point which may contribute to future Romanian cultural findings. Our aim is to create an interactive map showing all Romanian literature contributors by enabling the identification of similarities and differences between them based on specific features (e.g., similar writing styles, time periods, or similar text descriptions in terms of semantic models). In order to have a clearer image on how authors relate one to another, we employed the kNN algorithm on a set of integrated features covering authors' descriptions transposed in a reduced fastText embedding space, overlap of biographic refences and professions, as well as closeness in terms of publishing periods. This paper is a proof of concept that makes use of only the first two volumes of DGLR and represents the first step for follow-up analyses performed using the indexed dictionary.
Discourses of Economic Crisis in Romanian Media: An Automated Analysis using the ReaderBench Framework
DESCRIPTION: Transylvanian Review, XXVIII (Supplement Nr. 1), 245–262.
AUTHORS:Terian, S.-M., Coteț, T.-M., Sîrbu, M. D., Dascălu, M., Trăușan-Matu, S.
Semantic Recommendations and Topic Modeling based on the Chronology of Romanian Literary Life
DESCRIPTION: 12th International Workshop on Social and Personal Computing for Web-Supported Learning Communities (SPeL 2019) desfășurată împreună cu 18th International Conference on Web-based Learning (ICWL 2019). Magdeburg, Germania. Springer.
AUTHORS: Neagu, L.-M., Coteț, T.-M., Dascălu, M., Trăușan-Matu, S., Chișu, L., Simion, E. 
2018 - Articles published by P2 Partner ICI Bucharest
DIFFERENT APPROACHES TO MODELING USABILITY IN THE CONTEXT OF MOBILE APPLICATION CHALLENGES
DESCRIPTION: Proceedings of the IE 2018 International Conference
AUTHORS: Ion Alexandru MARINESCU; Lidia BAJENARU; Ciprian DOBRE
Smart Devices provide a variety of specific computing and connection features that influence user quality needs. In some cases, mobile applications have user interfaces and features that do not fully meet user requirements. An important area of research is the identification of those key elements that can be characterize the quality of a mobile application within a usability model. The purpose of this article is to identify, based on a comparative analysis and existing usage patterns adapted to mobile applications, those features of usability that best meet the quality requirements of users.
The study analyzes five classic models of usability and three mobile-friendly models, identifying a number of 14 elements that can shape the usability of a mobile application.
2018 - Articles published by P3 Partner: UPB Bucharest
Romanian Diactrics Restoration using Recurrent Neural Networks
DESCRIPTION: Proceedings of the 13th International Conference on Linguistic Resources and Tools for Processing Romanian Language (ConsILR 2018) (pp. 61–68), Iași, România.
AUTHORS: Ruseti, S., Coteț, T.-M., Dascălu, M.